The pleaures of direct customer contact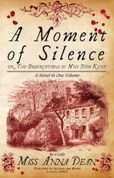 The People's Friend magazine recently picked A Moment of Silence as their Book Club choice for July (including a reader offer if the public bought the book direct from us) and we've since been bombarded with calls, cheques and online purchases of said book. Besides the obvious thrill of knowing the moment one of our books has been sold, and the pleasure of seeing a tangible result to a piece of publicity in a magazine, this direct contact with customers throws up all sorts of delights. Such as:
a) Discovering through a bit of banter whilst I took one woman's order, that she had bought a previous book from us ( Sophia's Secret ) which she said, and I quote: 'It brightened up my days in hospital when I was feeling very poorly after an operation.' Well, if that doesn't make our job worthwhile, I don't know what does.
b) Receiving some beautiful cards along with some cheques, including one loyal customer who hand-makes her cards – all very uniquely designed including the latest one which featured a cut-up CD stuck in an interesting pattern on the front. I have come to love opening the post.
c) Providing me with day-dreaming material as I picture the evocative places some of our readers live in… Windy Hill Lane… Three Holes Bridge (watch your step!)… Buttercup Drive (I intend to move here).
Of course, it does also throw up some more embarrassing moments, like when I'm taking down Welsh addresses: 'Come again?'… That's another Y?… oh, double D not double E,sorry… apologies, you're going to have to spell it all out for me again'…. et cetera, et cetera, ad infinitum.
It's all part of my day.
Chiara Priorelli, Publicity and Online Marketing Manager