A Merry Christmas and Happy New Year to All!
And so, here we find ourselves again – at the end of another year.  In 2011 we've welcomed some wonderful new authors to our list, introducing you to a whole new array of reading choices. For our crime-fiction lovers we brought you inter-war mysteries from Jacqueline Winspear, Swedish police procedural from Kjell Eriksson, and medieval crime from Cassandra Clark.  We saw our Young Adult list grow with the start of the new Dragon Diaries series by Deborah Cooke and the first book (Love Inc.) by the new YA duo Yvonne Collins & Sandy Rideout. And we've taken you on some memorable trips – across Egypt, Jerusalem and North America with William Dietrich's rollicking Ethan Gage adventures, from Hollywood to a country bakery in Vermont with Sandra Bullock's sister's memoir Starting Over One Cake at a Time, to the French countryside with The Provence Cure for the Brokenhearted, by Bridget Asher, the exotic realms of India with The World Beyond, by Sangeeta Bhargava and to 1940s Seattle in the  worldwide bestselling novel Hotel on the Corner of Bitter and Sweet, by Jamie Ford. And we certainly hope you've enjoyed the ride!
Today our offices close for the Christmas holidays, but we'll be back on 3rd of January working to bring you more books from your favourite authors and introducing you to more new names. So for now a BIG THANK YOU to all those who have supported us this year – from the booksellers to the bloggers, to our lovely authors and our loyal A&B readers – we couldn't be here without you!
And on that note, our new canvas bag has just been delivered today (just in time to fill it up with books and Christmas presents) and really, it says it all…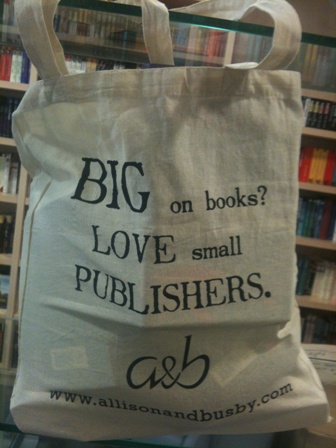 Merry Christmas and Happy New Year from all of us at Allison & Busby.