More literary inspired Xmas shopping
Ever since I wrote a blog confessing that I just didn't understand the acclaim for Jack Kerouac's On the Road (which, by the way, my brother was scandalised at – it's his favourite novel), the author seems to be haunting me. First there was the news story about the discovery of a lost Kerouac book, and in a recent issue of Stylist I spotted this Penguin passport cover: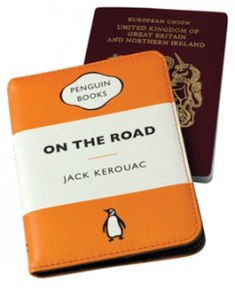 Perhaps it's a sign that I should reread the book and give it a second chance. I must admit this is a nice little Christmas present for the travelling book lover, and it led me to browse through more of the book-related items at the Bloomsbury & Co Store. Some of my favourites include a Sherlock Holmes mug (Holmes is very fashionable right now, didn't you know?) and The Hungover Cookbook (loving the headache-induced typo on the cover). And although it's not book-related and I would never use it, I love this lunchbox, shaped like a giant Lego brick!
I'm beginning to wish I'd discovered the Bloomsbury Store before I started my Christmas shopping…
Sara Magness, Editorial Administrator