The sights, sounds and smell of Christmas…
So the wind is howling, the office has collective sniffles and the economy has moved beyond the toilet bowl to somewhere around the u-bend, but still, there are still some nice Christmassy sights, sounds and even smells to enjoy. Here's my recent tally.
1. Twinkly Lights. It doesn't have to be Oxford Street's, my own modest display at home brightens my spirits enormously. If you haven't got your own fairy lights out, what are you waiting for?
2. Mulled Wine. If you're lucky, as I was popping into Heals the other week, your nose will be tempted with the aroma of mulled wine. I resisted the offer of a glass figuring I needed all my wits about me for gift shopping inspiration.
3. Xmas Sounds: I experienced two golden Yuletide soundtracks last weekend: firstly, a remarkably good group of carolers singing in aid of Farleigh Hospice in Essex, figgy pudding request and all. Secondly, a Christmas miracle: with the traffic banned from Oxford Street one Saturday, an early visit to this shopping hub was almost…can't believe I'm going to write this…peaceful.
4. Best Advent Calendar of the Year. Finally, managing to blow the pretensions of any other advent calendars out of the snow, advertising agency TBWA has turned their building around the corner into an enormous version.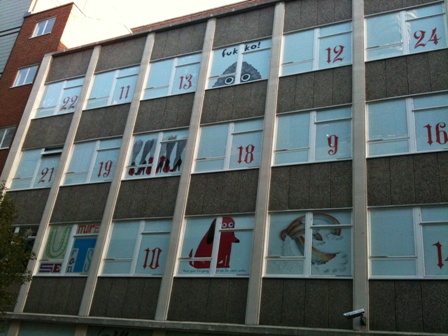 My favourite so far? 5th December.
Lesley-Anne Crooks, Sales & Marketing Manager