So what will we all be reading at the start of 2012?
And so we are back! The feasting and festivities are over and whilst we could dwell on the end of the holidays, the extra pounds we've gained, and the fact that we've been greeted by a wet and windy January, let's focus on more positive things and the inevitable questions:
What books did you all read over Christmas? And what books were under your Christmas tree?
Nothing like a bit of reading inspiration to kick off the New Year! So ok, we'll go first.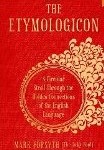 Lesley's choice read for the holidays was Just My Type, by Simon Garfield, and looks like she'll be continuing her exploration of the written word after receiving The Etymologicon, by Mark Forsyth. But lest we worry she'll be too caught up in the English Language to grace us with more homebaked goods this year… she was also apparently bombarded with cookery books including The British Bakeoff . I would like to personally thank those responsible for this. Other books to be unwrapped in the Crooks household included The Ritz London Book of Afternoon Tea and Fish, Fishing and the Meaning of Life, by Jeremy Paxman (oh bless the man with a hobby – it does make things easy).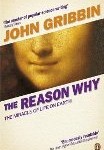 Like me, Sara didn't actually receive any books for Christmas.
Unlike me however, Sara received a Kindle.
I'm just saying.
While she had an Austen-esque Christmas reading Pride & Prejudice on said Kindle, she gave others Antimatter by Frank Close, The Reason Why: The Miracle of Life on Earth by John Gribbin, The Enormous Crocodile by Roald Dahl, and One Day, by David Nicholls.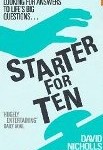 One Day was actually my choice read for the holidays (I figured I might finally find out what all the fuss was about) and I have to admit I thoroughly enjoyed it, so now I foresee I'll be reading Nicholls previous novel, Starter For Ten, sometime this year. And I presented my other-half with Empire of Silver, by Conn Iggulden (oh bless man with a love for an ongoing book series – it does make things easy).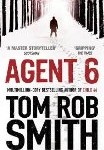 Susie's Christmas purchases included The Hare with Amber Eyes by Edmund de Waal ('it's absolutely glorious') and for her husband, Tom Rob Smith's Agent 6 (which is the last in the trilogy that began with Child 44, a book they both loved) and John Grisham's The Confession which he devoured in 2 days flat, which Susie is reading now, and which (in light of her rave review) I plan to grab once she is done.
And as for Christina, she's not back yet so we'll have to wait to hear about her Christmas reads.
So there you have it – a few titles to start off with, but help us with more inspiration from your Christmas. I repeat: What books did you all read over Christmas? And what books were under your Christmas tree?
Chiara Priorelli, Publicity & Online Marketing Manager