Wednesday Cover Story: The Super Matt Finish
As Chiara mentioned in her blog yesterday one of my Christmas books (a wee pressie to myself for being such a good girl all year) was The Hare with Amber Eyes by Edmund de Waal.  The book has been a genuine word-of-mouth success and that should surprise no-one once they start to read it – it is gentle, beautifully written and utterly fascinating.  Edmund tells the astonishing story of his family from the late 1800s in Paris & Vienna, and retraces his ancestors' steps through the amazing art collection, including the eponymous netsuke of the book's title, that is now scattered around the world.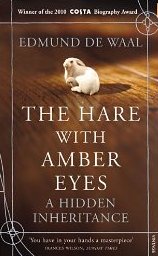 The physical book is pretty gorgeous too, complete with a double-cover featuring a handful of the other netsuke from his family's collection, and a stunning front cover showing The Hare with Amber Eyes.  Something also intrigued me – the finish that the book has.  Instead of the usual gloss or matt lamination, the publisher has gone for a rubbery Super Matt finish which is so tactile and sumptuous that it makes reading the paperback a real delight.  I love it so much that I've ordered the same for our upcoming paperback edition of Hotel on the Corner of Bitter and Sweet.
In this era of electronic books I suspect it's more important than ever to make our publications, even the paperbacks, as pick-up-able as possible and Super Matt may well feature on many A&B books in 2012!
Susie Dunlop, Publishing Director