Can you help me with my New Year's Resolution?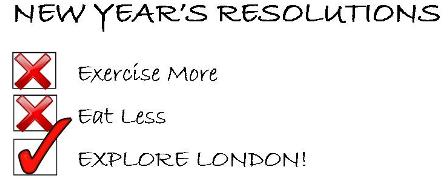 Ah, January. The month of hiding under the duvet, missing the twinkly lights of Christmas, and giving up on New Year's resolutions. My resolutions this year include the standard 'get more exercise' and 'eat less junk food'…even I'm betting they don't last long. There is one resolution, however, which I might be able to prolong a bit, mainly because it's a lot more enjoyable than the first two. My third goal: Make the most of London.
Yes, I'm determined to explore the city more and visit new places – after all, what's the point in enduring the morning commute on the Tube if you don't experience the best things about London too? Luckily I've discovered Time Out's 101 things to do in London, a handy list for anyone living in or visiting the capital.
Last year I did manage a few things on the list, but still I have yet to visit The British Library (a crime for a book lover!), hunt down some of London's 'secret galleries' or enjoy enough of the many beautiful parks. And there are always other weird and wonderful events going on in the city; the London Ice Sculpting Festival, for example, looks like a good way to make the most of January's cold weather!
So I have a good start to at least one of my resolutions; any other suggestions for things not to miss in the capital city?
Sara Magness, Editorial Administrator