As Chiara mentioned in the first blog post of 2012, I have some very wordy/worthy books on my current reading list. I haven't finished Just My Type yet, though it's so eminently dip-in-able that I could probably get two books going in tandem.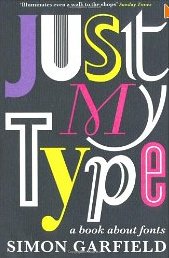 If you haven't come across this book yet and have any kind of creative itch or interest in design history, I would highly recommend it. From the ubiquity of Helvetica, as explored in the film of the same name, (could I sneak that past my other half onto our Lovefilm list?) to the discovery of the branding of Obama's election campaign, I've found a lot that was interesting. It has opened my eyes, made me look around with a shade more attention and prompted me to find out how I switch from my current email default of Arial.
But what to change to? I'll be checking out this online test mentioned in the book to see what font would express me best: see test here.
Lesley-Anne Crooks, Sales & Digital Manager