Your Movember book covers and the winning mo-hunter!
It's is now December and officially the end of Movember. For those of you who supported the cause by growing your own tache, the time has come to, well – shave. No matter what your friends tell you, it really wasn't a good look.  And for those of you that supported the cause by entering our Movember Competition, the time has come to thank you all for your brilliant entries and announce the winner of the draw!
But before we do, here's a peek at the moustache-featuring book covers you hunted down for us. Unsurprisingly the famed mo's sported by Charlie Chaplin, Hitler and Dali popped up amongst the entries, and Poirot was a favourite choice. I must give a special mention to Ben Jaundrell who spotted the tache on our own Railway to the Grave (well done Sir!) and some of you opened our eyes to some wonderfully weird titles such as Hair India; A Guide to the Bizarre Beards and Magnificent Moustaches of Hindustan and the official book of The World Beard and Moustache Championships.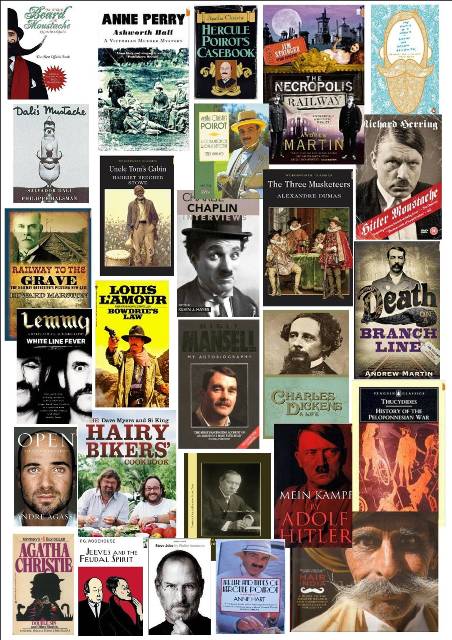 But the winner of the draw is Robert T with his entry Bowdrie's Law by Louis L'Amour (spot the bright yellow cover in the mix). Congrats Robert! You win a copy of The Affair of…Omnibus, by James Anderson.
Thanks to all for joining in the fun and stay tuned for more competitions!
Chiara Priorelli, Publicity & Marketing Manager