Possibly the greatest Morganville Vampire fan?
For today's post, I feel I simply must take this opportunity to highlight the existence of another blogger – Siobhan from Totally Bookalicious.
And why am I giving said blogger this special spotlight? Because, not only did she just recently give Last Breath, by Rachel Caine one of the most enthusiastic reviews – I could practically feel her passion for the book bouncing off my computer screen as I read her post (and if she doesn't convince you to read the Morganville Vampire series I don't know what will) – but she has also gone as far as using the same font for the title of her blog and her signature that we've used on all the Morganville Vampire books.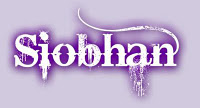 'nough said.
If any other fan out there feels they can top this public display of love for the Morganvilles, please let us know. The search for the greatest Morganville Vampire fan is officially open…
Chiara Priorelli, Publicty & Online Marketing Manager