When credit cards just won't do
With the snow showing no sign of letting up, this year is possibly the very best for keen skiers in Europe. However, skiing is a very expensive hobby and there are always those looking to cut corners and save a bit of cash.
Pity this poor guy though who tried to sneak onto a ski lift in Austria… He was caught out when the lift closed leaving him dangling in freezing temperatures. When no one heard his shouts for help, in a desperate attempt to draw attention to his plight he started setting fire to the cash in his wallet. He was down to his very last note when he was finally spotted!
Read more about Dominik Podolsky…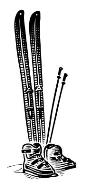 Lara Crisp, Managing Editor