Wednesday Cover Story: Using the old to inspire the new…
In March 2001 Allison & Busby republished the classic novel Absolute Beginners, by Colin MacInnes – first published in 1959 and now required reading in many undergraduate literature courses. The cover to that edition can be seen below – and the strong red, white and blue colouring and bullseye shape was cleverly reused on the cover of our Colin MacInnes Omnibus The London Novels – a visual reminder that the collection includes his most famous Absolute Beginners, as well as Mr Love and Justice and City of Spades.
Shortly (in June) we will be republishing Absolute Beginners for a second time. And for the new cover we've chosen to hold onto a different aspect of the old image – dropping the bold colours and bullseye background and instead working with the image of the man and the scooter. A very different look on the whole, but still a clear visual link to the old edition.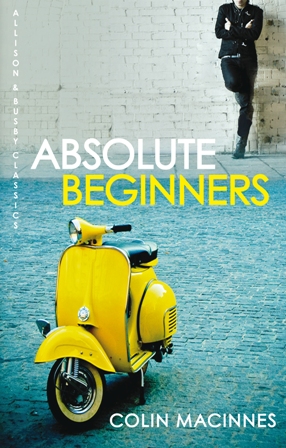 A nice example of how a strong classic cover can inspire different creative angles to work with for new covers.
Chiara Priorelli, Publicity & Online Marketing Manager