Wednesday Cover Story: Sell-Out Book Cover Poster
We've showcased The LIterary Gift Company on this blog before – and rightly so, as it presents such a lovely array of inspiring gifts for book lovers.  One of the things they offer are posters of book jackets, and amongst them the very stylish poster (so stylish that it was actually spotlighted in Stylist magazine's newsletter Emerald Street) of the first-edition cover of The Catcher in the Rye. The book is celebrating it's 60th anniversary this year so it would make for a particularly pertinent gift for a literature buff this year.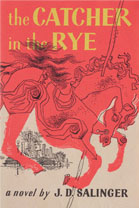 Except, it appears to have currently sold out.
Obviously there were a lot of people out there you wanted this book cover on their walls. But fret not…you can request to be sent an alert when stock is back in (same way you can request an alert on our website for any of our books that are out of stock or not yet published) and be the first to grab it when it comes back in. Or just opt for one of the other beautiful book cover posters on offer. Any others that…um, ok allow me this pun…That Catch youR eye? (Sorry, I couldn't resist.)
Chiara Priorelli, Publicity & Online Marketing Manager