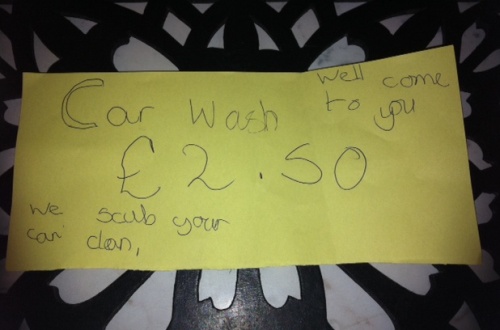 Yesterday this little note popped through my letterbox. Clearly someone forward-thinking little soul has been staying up past their bedtime and watching The Apprentice.
And to have embarked on such a venture on the first day of school holidays is particularly impressive.
Unfortunately though, whoever's behind this enterprise has neglected to include their business card so I have no idea of how to contact them to take them up on this service.
Still, I think Alan Sugar would be proud.
The most recent series of The Apprentice has highlighted both the entrepreneur and the slightly scatty mad inventor type. Amiable Tom Pellereau a welcome breath of fresh air compared to the usual cold megalomaniacs who make it through to boardroom's last sitting. He was in fact a surprise winner of the series, and ultimately his success rested on his previous achievement – the 'bendy nail file' invention, and really nothing much to do with his proposal of the 'breakthrough' office chair (pitched in the final episode) or his success (or lack thereof) on the weekly tasks.
Personally, I think Sir Alan would have been far more impressed with an invention such as the one I am about to present, instead of the rather boring piece of office furniture or nail file (however bendy it is) proffered by Tom. And it certainly would have been far more interesting for viewers to see stone-faced Margaret et al facing a business proposal like this…
Introducing…Parmesan pencils.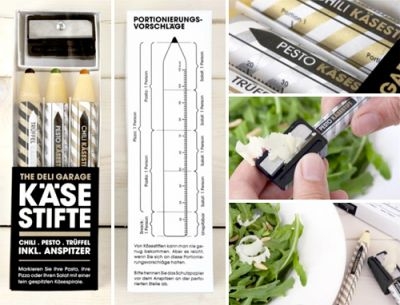 A genius invention from the Deli Garage and brilliantly marketed by ad agency Kolle Rebbe , this is a must-have accompaniment to any kitchen. Disguised as fat pencils, the lead is actually flavoured parmesan cheese. The set of three pencils, including chilli, pesto and truffle flavoured parmesan, comes complete with a quirky 'sharpener' so you can add the required amount of shavings to your dish. I do love a good gimmick…
Lara Crisp, Managing Editor