Sharing the love for olive oil…
Being half-Italian, I do love my olive oil. Give me some bread to soak it up with and I pretty much down the stuff. Give me a rich extra virgin olive oil – be it Greek, Spanish, Italian (I've also been seeing a lot of oils from Israel lately which I will have to try) – and I'm happy. Plus there are all those lovely infused olive oils: garlic infused (ideal for bruschetta), lemon infused (add this into a pot of hummus, it's delicious), chilli infused (pour and mix into a seafood pasta) and my latest discovery, hazelnut infused olive oil (an easy yet simple dressing for a salad).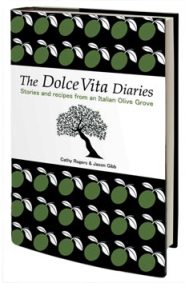 I'm also a sucker for great marketing and good packaging, and I particularly love the story  behind the NUDO organic oils (great brand name too – Nudo means Naked in Italian). The company was set up by a young British couple Jason Gibb and Cathy Rogers who gave up their successful careers as TV producers and moved to Italy where they bought and restored an abandoned 21-acre olive grove in the Le Marche region in Italy and, well, never looked back.  They have a wonderful blog, The Dolce Vita Diaries, including inspiring recipes for olive oil lovers like me, and they've even turned their experience into a memoir (hardback pictured).  Quite frankly it can't help but make you want to find your own piece of land and start living the dream.
In fact, this reminds me that one of our authors, Freda Lightfoot, has her own olive-picking story. She lives in Spain and has her own olive grove of 28 trees, and whilst she's not turning her crop into a serious business like Nudo, she enjoys the fun of it, gathering her friends around to pick the olives every year. Last year they produced enough olive oil to allow each picker to take home around 5 litres worth, with enough left over to sell locally too. Read about her last harvest in her blog here…
(I note that she mentions 5 litres of oil would probably last them about a year, but at my consumption rate 5 liters would probably only last me about 3 months…)
Chiara Priorelli, Publicity & Online Marketing Manager