Wednesday Cover Story: Cover spotlight at Bodies in the Bookshop
Last night I had the pleasure of attending the annual crime extravaganza, Bodies in the Bookshop at Heffers in Cambridge – which we were delighted to sponsor this year.
The event attracts a plethora of established and exciting debut authors, who like moths to a flame, come flocking to the bookshop every year to meet crime fans and share a glass of wine with their fellow writers. All the authors are asked to stand around their relevant table (marked with signs for example 'historical crime' or 'debut authors') so readers can recognise their favourite writers with more ease or discover new names according to their particular crime interest. I spotted Sophie Hannah and Meg Gardiner amongst the hordes and had the pleasure of seeing our lovely A&B authors Adrian Magson and Zoë Sharp.
But there was one woman that stood out throughout the evening. She managed to find herself on every table. And even on the front of the Bodies of the Bookshop catalogue…
Who was she? Why, none other than Maisie Dobbs – the heroine of Jacqueline Winspear's acclaimed crime series.
Let me explain…
Every year, the wonderful manager at Heffers, Richard Reynolds, chooses a cover image (just the image, no text) to use as the cover to his catalogue. This year the beautiful image from the upcoming The Mapping of Love and Death was his choice selection. But the cover image (by talented illustrator Andrew Davidson) proved so visually pleasing that it was also used for the signage at each table – for example the sign showcasing a special table of A&B crime. (Fabulous!)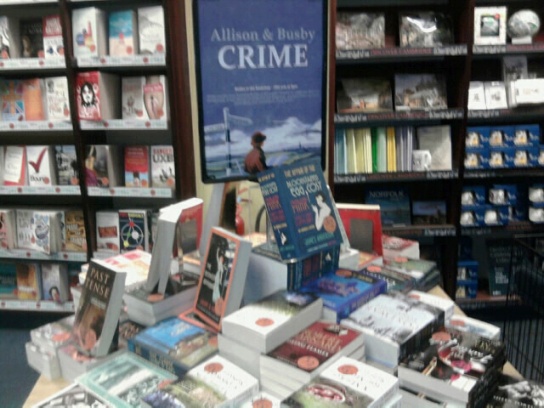 As I flitted around the table of friendly authors I couldn't help but wish Maisie would come alive, turn around and join in the banter.
Chiara Priorelli, Publicity and Online Marketing Manager