A classic and beautiful gift (eg. for a baby shower…)
A few weeks ago, I was thrown a surprise baby shower, complete with an inventive Alice in Wonderland Mad Hatters' theme. Not only were the amazingly colourful foodstuffs decorated with 'Eat me' and 'Drink Me' instruction labels but everyone was in a wacky hat or white rabbit ears, drinking suspicious-looking punch out of mismatched teacups.
I, or rather the baby to be, was very spoilt. But one of my most cherished gifts on the day was a special Penguin edition of Alice in Wonderland & Through the Looking Glass.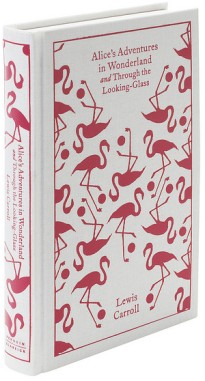 I don't think the image does the book justice – it's a very covetable hardback with beautiful end papers and complete with the original illustrations. Perhaps not something I'll be letting my new daughter get her little hands on straight away but a beautiful gift and the perfect way to start off her own library.
Lara Crisp, Managing Editor