Uncomfortable with the notion of women who kill?
A new series Snapped: Women Who Kill starts tonight on the Crime and Investigation Network chronicling the lives of seemingly ordinary women who suddenly became killers. Looking at various cases such as Tracey Andrewes, who stabbed her fiancé thirty times with a pen-knife after an argument whilst driving home, and Lady Sarah Ferguson's aide who stabbed her lover to death, it asks the question: what is it that turned these women into murderers?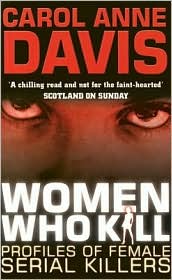 It is a subject that Carol Anne Davis tackles in great detail in her book Women Who Kill, a disturbing yet fascinating look into the lives and crimes of female serial killers. However, differing from this current TV series which deals with many one-time murderesses (women who 'snapped'), Davis' book focuses on those who have killed once, and then killed again, and again, and again. The case studies range from a nurse who lethally injected healthy babies in her care, to those who killed for money, to the notorious case of Rose West who raped, tortured and murdered young girls.
Inevitably, what makes all these crimes even more shocking is the fact that the perpetrators are women.  The thought of a woman committing murder somehow seems more 'unnatural' than if it were a man. Evidence supports this preconception as Davis points out that 'women, statistically aren't a deadly breed – females comprise only 2 percent of the world's serial killers'. So this notion that women, simply because of their gender, are less prediposed to physical violence and murder than men, well it makes the picture of a female killer that much more uncomfortable to deal with. In fact, it is easier to accept the idea that a woman 'snapped' and therefore commited murder in a moment of fleeting insanity, than to envision calculated and repeated killings by a female hand.
Interestingly, this conflictive notion of a woman who can kill is explored by thriller-writer Zoë Sharp, whose acclaimed Charlie Fox series features a female bodyguard as heroine. An ongoing theme in the novels is Charlie's inner discomfort at the idea that she can be so calm and clinical about killing someone (if the situation demands it) reflecting our preconception that it isn't 'natural' for women to kill.  And as an author Sharp felt the need to address this: 'This wouldn't be an issue with a male character…but women who kill in fiction are so often portrayed as psychos or assassins, and I wanted Charlie to be neither. Cross her and she'll kill you, without a doubt, but not without consequences for her on an emotional and psychological level.'
And so now I find myself asking – as readers, would we like Charlie (a woman who kills) or so readily accept her as a heroine if she didn't have this inner conflict? Or, if she didn't show that "conscience" would we see her as less of a woman?
Chiara Priorelli, Publicity & Online Marketing Manager