Time to indulge in some poetry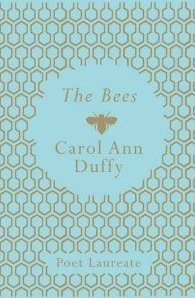 It's all about Carol Ann Duffy right now. The release of her newest collection of poetry, The Bees, has been accompanied by a flurry of magazine articles and poetry readings – including one at the Southbank centre which I'm disappointed I couldn't attend. Having studied her poems at A level, I'm a big Carol Ann Duffy fan. At school, I used to think I didn't like poetry very much – often I found it a bit pretentious, verging on meaningless – but Duffy's work made me realise I simply hadn't found the right poems.
And so I'm looking forward to reading The Bees – I think I'll treat myself to it, as I'm not sure I can wait until Christmas, or even my birthday in November. I have to admit, I didn't fall in love with her last collection, Rapture, but her Selected Poems includes some of her best. If you've never read Duffy before, here's one of my favourites, to give you a taste.
The Grammar of Light
Even barely enough light to find a mouth,
and bless both with a meaningless O, teaches,
spells out. The way a curtain opened at night
lets in neon, or moon, or a car's hasty glance,
and paints for a moment someone you love, pierces.
And so many mornings to learn; some
when the day is wrung from damp, grey skies
and rooms come on for breakfast
in the town you are leaving early. The way
a wasteground weeps glass tears at the end of a street.
Some fluent, showing you how the trees
in the square think in birds, telepathise. The way
the waiter balances light in his hands, the coins
in his pocket silver, and a young bell shines
in its white tower ready to tell.
Even a saucer of rain in a garden at evening
speaks to the eye. Like the little fires
from allotments, undressing in veils of mauve smoke
as you walk home under the muted lamps,
perplexed. The way the shy stars go stuttering on.
And at midnight, a candle next to the wine
slurs its soft wax, flatters. Shadows
circle the table. The way all faces blur
to dreams of themselves held in the eyes.
The flare of another match. The way everything dies.
– Carol Ann Duffy, Selected Poems (Penguin Books in association with Anvil Press Poetry, 2006)
Sara Magness, Editorial Administrator