Tomorrow I head back to London, busing it down from Maine to Boston, where I intend to spend a day on memory lane. I spent many long summers in this most European of American cities – interning at a local newspaper on Boston's chic Newbury Street (spoiled early, it's no wonder I now love working by trendy Charlotte Street); writing newscasts for WABU-TV (it was the summer of the Korean air crash and Versace's murder and I was taught the unsavoury motto 'blood sells'); and working as a counsellor at the summer Camp Thoreau (where it was hard to get kids to listen to you when they look older and wear more make-up at age 13, than you do at age 20).
But Boston also takes me back to my early childhood and one of my favourite books, Make Way for the Ducklings – which sees a mother duck and her chicks wander through the city of Boston in search of good home.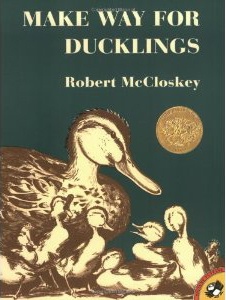 For anyone wanting to explore the city, I probably wouldn't recommend using this classic book as guide, as sweet as it is – far better to use the Boston Freedom Trail – literally a red line painted on the ground which you can follow like a trail around the many historical sights in the city.
Having done the sights before, I will instead just wander down Newbury Street again, maybe shop in Copley Place shopping mall, grab a bite at the food hall in Faneuil Hall Marketplace (Boston's equivalent to London's Covent Garden) and, like the ducklings, end up in the lovely Boston Gardens.
See you back in the office next week.
Chiara Priorelli, Publicity & Online Marketing Manager (reporting from Maine)