Time for some Literary Bling…
I'm a little bit of a self-confessed online shop-o-holic (Big Lie Alert…I'm a massive online shopping addict!) So imagine my heart palpitations over this little number that I treated myself to earlier this year. This beautiful handmade necklace is a miniature replica of my all time favourite novel, The Great Gatsby.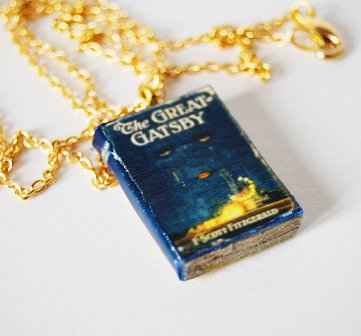 Given the convenience of, dare I say it, kindle and e-readers (I just did!), we are robbed of our opportunity to display the books we enjoy. It's all secretive hidden behind those illusive screens. I love the fact that with this little necklace, I can wear my favourite book. What's more, the designer will make any book you choose, so perhaps you might pick another all time classic, like say Lolita, or…perhaps your favourite A & B title? Well, our covers are to die for darling!
Ella Davis, currently doing work experience at A&B