The Lavender Keeper and other wartime reads…
I can't believe it's nearly a year since I was enjoying cosying up to Restless– the BBC's adaptation of William Boyd's great espionage novel. Since then Hayley Atwell, who played headstrong Eva, has become something of a rising star, and I've skipped through fantasy (finally watched a bit of Game of Thrones) and French zombies (The Returned) by way of political dramas (House of Cards).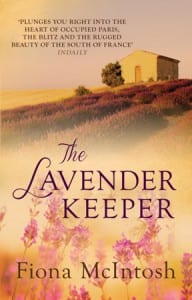 I was reminded of how much I'd enjoyed the BBC drama recently, however, whilst reading Fiona McIntosh's wartime book, The Lavender Keeper. Set between Paris and London, and the lavender fields of Provence, it's fast become a favourite of the Allison & Busby titles that I've come across in my first two months here. Just like Restless, the book's tough characters- confident and capable (well, I suppose you would have to be if you were a WW2 spy!)- are the reason I'm falling for this title. And although a lot of fairly hard-hitting wartime truths have been packed into the 200 or so pages that I've read so far, there's something gentle about the way that The Lavender Keeper's written; the way in which McIntosh allows space for a real delve into her spies' pasts, and switches up action and contemplation so brilliantly.
And, lucky for me, I won't have to bid "au revoir"! to Luc and Lisette for too long, as the next instalment from Fiona McIntosh is due out in March 2014 – keep an eye out for The French Promise.
Do you have a favourite wartime novel? Let us know what it is!
Kathryn Colwell, Publishing Assistant