I've decided to jump on Guardian Books bandwagon and discuss my To Be Read pile. Mainly because I always look forward to starting something new and because I have a long weekend off work so there's lots of time to get stuck into something!
I'm currently halfway through the masterpiece that is The Little Friend by Donna Tartt.
And piled up on my bedside table are Angela Thirkell's Pomfret Towers – as I imagine I might fancy something light and witty after Tartt's dark behemoth.
And always the lover of anything vaguely Sherlock Holmes related, Anthony Horowitz's Moriarty. Speaking of which – have you seen the latest Mary Russell and Sherlock book from A&B's Laurie R. King? (Click here)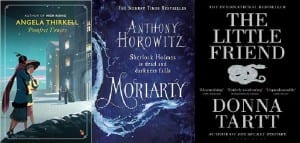 What's on your TBR pile?
Sophie, Editorial Admin.