We are moving offices soon so there's a great deal of ruthless clearing out and decluttering going on at A&B. We have been at Charlotte Mews for almost seven years now and we love this area (Susie, for its proximity to The Groucho; Chiara for the amazing foodie spots in the area, Christina for the shopping (spitting distance from Oxford St); Lesley, for the quirkiness of Joy a few steps away, Sara for the literary associations nearby (apparently Orwell and Dylan Thomas used to drink in Fitzroy Tavern), and me for Pollock's Toy Museum where I could happily spend an entire day browsing round.
How sad that we have to leave a place that we love so much.
So, we're not.
We're upping sticks and moving, oh, about 100 yards down the road. Hardly worth the movers while.
The builders are busily working on the new office space so it's perfect for our arrival late in September. I've been busy too. Making up a Pinterest wishlist board of our ideal office space. Come have a browse and see what you think?
Clink on the image below to enter our Pinterest board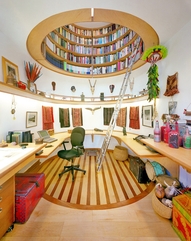 Lara Crisp, Managing Editor