Hello!
I wanted to take the opportunity to introduce myself as the new Publishing Assistant at Allison & Busby, as Sophie has now moved over to Editorial. I'm really very excited to have begun working here late last week and I have already been thrown into life in the A&B world!
Having spent a fair amount of time doing work experience and part-time placements in the industry (something I'm sure many graduates and interns are familiar with), supplementing income with side jobs and surfing a wave of friends' sofas, it is quite wonderful to finally have a flat and a desk to call home.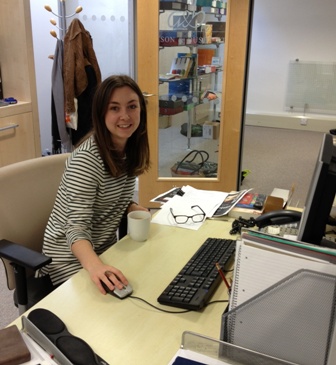 But not to rest for long! Yesterday, Lesley and I attended the Gardners Tradeshow in Coventry (see yesterday's blog post) – a great opportunity for me to meet some friendly booksellers and for me to get to know our forthcoming titles a little better. Listening to how our books have been received in different parts of the country and talking to those who meet our readers every day was not only interesting and useful, but got me looking forward to the list of A&B titles I have lined up to read, curled up in my cosy new flat.
Very nice to meet you all, if only digitally! I look forward to writing again soon…
Kathryn Colwell, Publishing Assistant