Getting sent to Coventry can be a good thing
On Sunday Kathryn (our new Publishing Assistant!) and I were sent to Coventry. No, we weren't suffering some kind of office ostracism, we went to represent A&B at the annual Gardners Trade Show, part of the Bookseller Association Conference weekend. So for a couple of hours we got to chat to some diverse, clever, book-loving booksellers about what we publish. Here are some of the things I learnt in between waxing lyrical about our titles.
1. Booksellers are only human i.e. they cannot resist the lure of an A&B jute bag, particularly when the bag is filled with books, proofs and sign-up sheets for competition prizes!
2. All the booksellers we spoke to are passionate about making their shop, their stock and their events programme as exciting and enticing as possible. People of Britain, you have some amazing local haunts. If you haven't already, fly the #booksaremybag banner proudly.
3. It appears that 1 in 50 people won't appreciate the charm of Harriet Russell's Envelopes. Perhaps I'm biased, but whilst 49 book-lovers cooed and exclaimed in delight at every page, I did feel a pang of pity for the one lost soul who didn't 'get' this little gem of a book.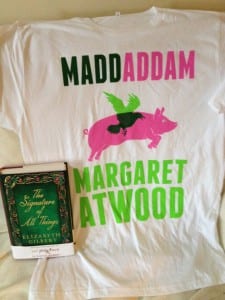 4. 'A good neighbour is a found treasure' (Chinese Proverb). While I had time to make one circuit of the 100+ publishers exhibiting before things kicked off, it was a busy day in which I'd not had a chance to nosy for any particular books on the horizon, see if the Meringue Girls were offering tasting bites, or pick up any bookmarks etc. But I still managed to hit the book swag jackpot with an insanely bright Madd Addam t-shirt and beautiful Elizabeth Gilbert hardback, The Signature of All Things. Thank you Barry at Bloomsbury!
Thank you again to all the lovely people who stopped by the stand and now I'd like to announce the winners of our three (yes, three, we're generous like that) competitions we ran on the day. All names were taken from our sign-up sheets and picked out of a hat, low-tech chic. Drumroll please…
1. Winner of a signed, limited edition hardback of Rachel Caine's Daylighters *très exclusive, not available to the general trade*: Maggie Wood, Chorleywood Bookshop.
2. Winner of a signed set of Kate Forsyth's Bitter Greens and The Wild Girl as well as the beautiful fairy tale bookends from designer Heather Alstead which were much admired: Katie Clapham, Storytellers, Inc.
3. Winner of £200 (RRP) of Allison & Busby stock from our friends at Gardners Books: Michèle Laouenan, The Book Shop, Liskeard.
Congratulations everyone, we'll be in touch direct.
Lesley Crooks, Sales & Digital Manager