The Children of War – A guest post from Jacqueline Winspear
Jacqueline Winspear is our Author of the Month for March 2023. To coincide with the publication of her stand-alone mystery, The White Lady, we are pleased to share a guest blog post from Jacqueline Winspear on the children of war.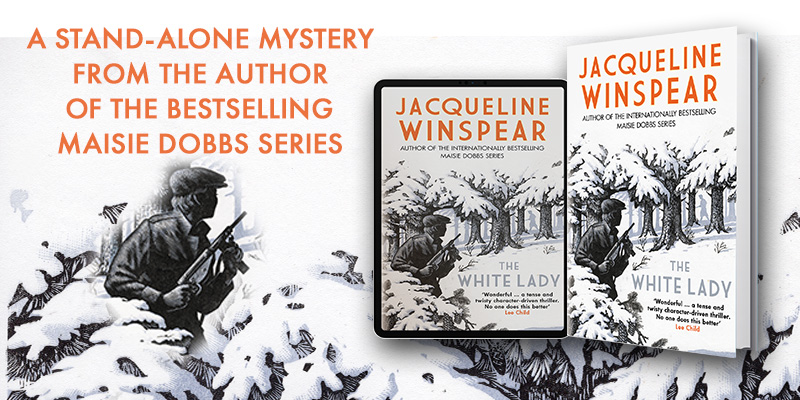 "Every war is a war against the child."
Eglantyne Jebb, 1876-1828, founder of the Save The Children Fund
At some point in the future, when historians tackle the war in Ukraine, a finite length of time will be assigned to the terrors inflicted upon the country's people. There will be a date for the beginning and another for the end. A number will be assigned to the dead and wounded and there will be commentary on the words and acts of politicians, the reactions of world leaders and assessments of who did what and actions they could have taken to stop it. Reflect upon any war, any major historical event, and that's how it goes. Facts neatly boxed in a time capsule. But in truth, that's not how it goes.
In his 2008 book War Child: Children Caught in Conflict, Dr. Martin Parsons, Founder and former Director of the Research Centre for Evacuee and War Child Studies at the University of Reading, wrote about the impact of war on children. He interviewed elders who had been child evacuees in WW2, and he studied the impact of war on African child soldiers, on Russian children caught in the Siege of Leningrad and children of the Holocaust. Parsons discovered that it takes three generations for a childhood experience of war to move through the family system – three generations for memories, fear, grief and the behaviours that emerge as a result of the experience to fade. I remember thinking, "By the time three generations roll around, there's another war." Yet more than that, it left me with an understanding of my mother's behaviours as a child of war, and the impact that memories of evacuation and living in the midst of WW2 bombing raids on London had inflicted upon her. From conversations at the end of her life when she was eighty-eight years of age, I know she was haunted by war until her dying day.
Images of children in Ukraine suffering through bombings have haunted us all, though one story in particular caught my attention in the early weeks following Russia's initial violent incursion into Ukraine. A team from Britain's National Health Service specialising in the transportation of sick children travelled to Ukraine on a chartered aircraft to evacuate children undergoing cancer treatment – children who had spent weeks being taken to and from shelters while still undergoing chemotherapy and other protocols designed to save their young lives. The NHS team prepared the aircraft as best they could to account for in-flight emergencies and the fact that mothers who had reached a point beyond exhaustion were also accompanied by siblings of the sick children – and all the children were suffering the grief of having to say goodbye to their fathers. The work of the NHS team – led by Dr. Michael Griksaitis, a paediatric intensive care doctor who is also an expert in the movement of critically ill children – was nothing short of miraculous. But the part of the story that caused me to break down and weep was the fact that they had brought two "play therapists" on board. Apparently, Griksaitis admitted to wondering how effective they could be, but by the time the flight landed, he wished they could have accommodated more play therapists. The image of those poor children of war being encouraged to play broke my heart.
I was five years old when I became aware of the impact that war had inflicted upon my mother during her childhood and early teen years. We were shopping in the small town close to our home in rural Kent, England. My brother was one year old and in the baby carriage, and as we walked past the post office, the siren to summon the local volunteer firemen sounded, the loud hail starting low and then mounting to a crescendo that felt as if it would burst my eardrums. The siren was mounted on the post office roof and was a leftover from the war, when it was used to warn of an approaching bombing raid. In a second my mother grabbed my brother and pulled me into a doorway. She crouched with her arms around us, her face looking upward, eyes scanning the skies for the death she was sure would rain down. I remember taking her coat sleeve and pulling at it to gain her attention. "It's alright, Mummy – there aren't bombs anymore." The year was 1960.
A generation of children in Ukraine is suffering terribly, just as children suffered in Syria, a place where Putin bombed civilians on behalf of another tyrant, taking a leaf from Hitler's playbook when he assisted Franco by bombing Guernica, a practice run that worked so well he repeated it time and again just a few years later in his bid to take over Europe.
When I think about the children of war in Ukraine, it takes my breath away wondering how they will fare in the future, how their world might seem as they age and in time become elders. It is likely their children and grandchildren will suffer from fears and behaviours they will never be able to understand or explain, because they are all the children of war.
Jacqueline Winspear, a 2015 Dayton Literary Peace Prize finalist, is the author of the Maisie Dobbs series of historical novels focusing on the impact of war on ordinary people. Her new (non-series) novel, The White Lady – which follows a woman's life from girlhood in WW1 to womanhood in WW2 – will be published by Allison & Busby on March 21st.
Click here to purchase The White Lady in hardback. Click here to learn about the Maisie Dobbs series.
Don't forget to follow Jacqueline on Facebook, and us on Instagram, Facebook, and Twitter!