Edward Marston's Railway Detective series welcomes its 21st addition, Death at the Terminus – A guest blog post from Edward Marston
Our Author of the Month for April is Edward Marston, author of the Railway Detective series. This month, we celebrate the publication of the 21st book in the series, Death at the Terminus. In this blog post, he reflects on the origins of the series and his love for steam engineering.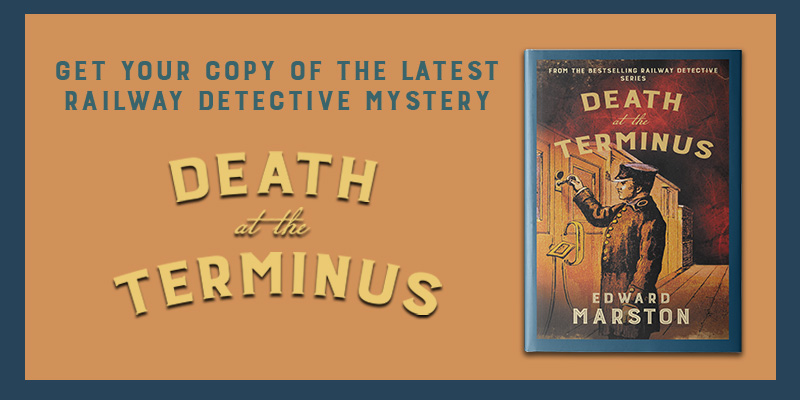 Death at the Terminus is the twenty-first book in the series. The Railway Detective, the first title, was deliberately set in 1851, the year of the Great Exhibition. When I began the series, I had no idea how long it would last. The longest series I'd written before ran to sixteen titles, but I had also written over five hundred episodes of radio and television series – an experience that taught me how to develop characters and storylines. The latest novel is set in York, a city I've visited many times and which I featured in Lions of the North, set in 1086. There have been huge changes since the Norman Conquest and they are crystallised in the development of British engineering.
Death at the Terminus gave me the chance to write about York both in the 1865 and during the Viking occupation because one of the main characters is an archaeologist in charge of a major excavation. A train is waiting in York station. The guard suddenly appears and runs down the platform at speed. When he dives into the brake van, there is a huge explosion and he staggers out in flames before dying just short of the fire buckets. Who killed him – and why? Colbeck and Leeming need all of their experience to solve the crime.
Steam engines are in my DNA. I was born less than fifty yards from a railway line and met my father for the first time on a platform in Cardiff Central Station when he returned from the war. Both he and my uncle were engine drivers. My love for steam engines has never wavered. My wife and I once celebrated our wedding anniversary at Didcot where we took it in turns to drive a steam engine up and down.
Readers of the series don't need to go to those lengths. I just hope that they enjoy a good yarn, learn something about Victorian Britain and want to know when the next book in the series is due for publication.
Click here to purchase Death at the Terminus in hardback. There are a limited number of signed copies available, please call us on 020 3950 7834 if you would like to purchase.
Don't forget to follow us on Instagram, Facebook, and Twitter to keep up with the latest news!