Thanks Ireland – and not just for the Guinness…
St Patrick's Day, which took place yesterday, is for many probably just an excuse to get down the pub and have a pint of Guinness while inventing spurious Irish ancestors and enjoying the general craic. Perhaps it's also a good time, however, to think about what great contributions Ireland has made to our literature.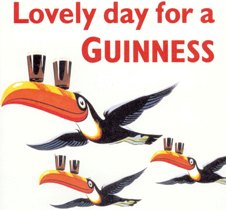 For such a small island it boasts some pretty impressive figures: W.B. Yeats, James Joyce, Bram Stoker, Oscar Wilde (though frequently thought of as typically English, he grew up in Ireland and often described himself as an 'Irish writer'), Seamus Heaney, Brian Friel . . . and many more.
I'm particularly aware of all the great Irish novelists, poets and playwrights of ages gone by – and yet when it comes to more modern times, I'm at a bit of a loss. Off the top of my head, I can name Emma Donoghue and John Boyne as major contemporary Irish writers, but then I'm stuck. Perhaps it's just that nationality isn't so highlighted today – when reading I do tend to look past the author's background and simply enjoy the book itself. Are you aware of any other great Irish authors we should celebrate along with the Baileys and the whisky? Or perhaps just some Irish-themed books (look out for The Devil's Ribbon by our very own D.E. Meredith, for example). I'll leave you to ponder, with a gorgeous poem by William Butler Yeats for inspiration:
He Wishes For The Cloths Of Heaven
Had I the heavens' embroidered cloths,
Enwrought with golden and silver light,
The blue and the dim and the dark cloths
Of night and light and the half-light,
I would spread the cloths under your feet:
But I, being poor, have only my dreams;
I have spread my dreams under your feet;
Tread softly because you tread on my dreams.
– William Butler Yeats
Sara Magness, Editorial Administrator