Summer Reads-Take Out the Trash!
The "Summer Read" has come to refer to trashy, 'chick-lit', easy reads. The Fifty-Shades phenomenon (which coincidentally was followed by a massive increase in the popularity of the discreet eBook) cemented this genre of the 'holiday-read' as guilty-pleasures, not 'proper' books. But this is a myth! The holidays are the perfect time to read books that are new or unfamiliar; I am guilty of indulging in 'not-proper' books, so am determined this Summer to find the perfect blend between an easy pool-side read and a 'non-guilty', 'good' book.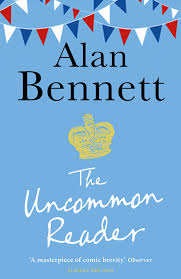 My first suggestion is Alan Bennett's The Uncommon Reader. As a novella, there is no question of fighting on to the bitter end (and it fits perfectly in a beach bag). Bennett portrays the Queen discovering a passion for literature and how this affects her usual duties. The book can be taken as a light-hearted celebration of literature, with some great plays on English stereotypes (Bennett's use of humour is superb) and some entertaining, mischievous corgis. Or one can see it as a political commentary, or a cultural one, considering the importance of literature. The insight into the fictitious Queen's book list is also handy for a quick, cheat's guide to classics, as you span through centuries of canonical material in just over a hundred highly entertaining pages!
Next on my list is taken from a different genre, but similarly provides a mixture of tradition with a twist. It is much longer, but far from arduous, as the narrative is captivating from start to finish with prose that is effortless to read. Kate Forsyth's The Wild Girl is based in the history of the famous Grimm brothers, and harrowingly elucidates the effects of war and poverty, intertwined with a passionate, compelling love story. Perfectly blending serious, factual events with a fairy-tale romance, whether you are usually drawn to historical fiction, fairy tales or romance, you are bound to be entranced by this one!
I'll be posting again next week with a couple more ideas. Comment below with suggestions yourselves! Happy reading and sunning.
Sophie, currently interning at A&B