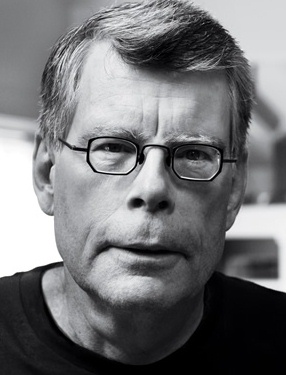 So here I am, blogging from Maine, USA – otherwise known as the home of Stephen King (pictured above). In fact, I passed through his birthplace, Portland, on my way up from Boston, and looked out for the guy, before remembering he actually now lives further north in Bangor. As I drove through the streets I couldn't help wondering what he was doing. I'd really like to know. (What were you doing, Stephen, at about 4pm local time on Saturday 24th September? If I tweet you to ask, will you answer?)
Anyway, moving on. Not surprisingly, many of King's books are set in Maine although primarily in the fictional town of Castle Rock. So while Maine has certainly been put on the literary map by the worldwide bestselling author, it had me thinking about what other authors have been inspired by this beautiful state.
I can think of the very amusing A Walk in the Woods, by Bill Bryson (who followed the Appalachian Trail which ends in Maine) and Perfect Match by Jodi Picoult. But what other Maine-set books can you think of and recommend? Do tell, as when I return to London I hope to extend my Maine holiday vicariously through books.
Chiara Priorelli, Publicity & Online Marketing Manager