Snippets from World Book Night
There were hundreds of articles, programmes and events celebrating World Book Night on Saturday but here are just a few that caught our attention for one reason or another…
THE EVENT
A&B's editorial administrator, Georgina Phipps, attended the World Book Night event at the Royal Festival Hall featuring readings from various authors and here are her highlights from the evening:
"First came the debut writers and best of the lot was Joe Dunthorne who read the the first chapter of Submarine – very funny (modern Adrian Mole?), and very well read, and I will definitely try and get hold of it (before the movie comes out!). Then came the big-timers. Highlight was Margaret Atwood who came on to rapturous applause, did her impersonation of a cranky old lady, and gave a very good reading from a chapter of The Blind Assassin to relative hush, one of the 25 books being given away.  Gaps between readings were filled by speakers and discussions revolving around anger at the library closures (hear hear) and a desire to 'reintroduce reading as part of our culture' (interesting as I wasn't aware it had gone away!). Bonus was I left the event with a free book: The Spy Who Came in from the Cold, by John le Carré, which I'm looking forward to reading.'

THE ARTICLE
The Guardian Review featured a piece where they asked 45 writers which books they would most often give as a gift or be most pleased to receive. We were delighted to see the great Annie Proulx picked "the unique murder mysteries of Tony Hillerman" set in New Mexico which include the brilliant Skeleton Man and The Shape Shifter.
THE TV PROGRAMME
In The Culture Show Special: The Books We Really Read see how many times you can spot Warriors, by Jack Ludlow on the shelves at Heathrow airport as Sue Perkins talks to camera in the first ten minutes of the programme! If only books could wave when they're on TV…
Watch it on BBC iplayer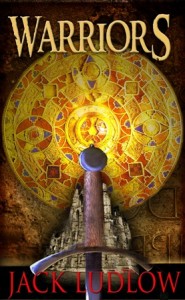 Chiara Priorelli, Publicity & Online Marketing Manager