Sneak peek: New look for Charlie Fox
This summer sees the launch of the new paperback in Zoë Sharp's Charlie Fox series, Fifth Victim. And with this new release comes a brand new look for the cover. Our heroine, Charlie – ex-Special Forces soldier turned bodyguard – continues to excite critics and readers in the know, who constantly proclaim her to be one of the best thriller heroines around (don't take my word for it, check out the reviews!). Whilst most crime series feature a cop, detective, Private Investigator or amateur sleuth in the lead role,  Charlie, as a kick-ass bodyguard, is less easily labelled, and in fact has been hailed a female rival to Lee Child's Jack Reacher (also from a military background but now just a lone renegade who walks in on trouble and finds himself saving the day).
Popular with both male and female readers,  Zoë Sharp's covers have, up till now, featured more neutral images (arguably more masculine images?) but haven't really shouted about our unique female heroine.
And so with this new release we've decided to make more of her on the cover.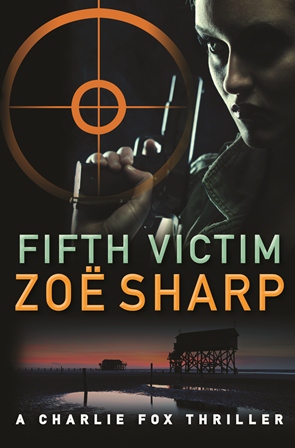 You'll forgive the pun, but hope you love this 'second shot' at a cover design for this series and that the new look for Fifth Victim will get even more fans hooked on the books.  Tell us what you think! (Of course, we hope to hear you like the new design, but don't worry, author Stuart MacBride may kick you out of his gene pool if you don't like the content of Zoë Sharp's books (see his review of Second Shot) but we promise we won't kick you out of our gene pool if you happen not to love the new packaging!)
Chiara Priorelli, Publicity & Online Marketing Manager