Slow and Steady Wins the Race
Whilst I didn't compete in the London's greatest running event last weekend, I must admit it's been a bit of a marathon to get to the Easter holiday this year. It does make a difference when it falls to the end of April, doesn't it?! Nevertheless, it's been a great couple of weeks, full of fun, including the London Book Fair at Earls Court- my first ever book fair, in fact!
I hope you're getting ready for a weekend of R&R&CH (that's rest and relaxation and chocolate), or perhaps a good Easter Egg hunt- at the more exertive end of the holiday activities. But as you lounge in the sunshine, why not catch up on this week's fantastic Witness programme, on Radio 4 – which explores the life of Katherine Switzer, who in April 1967, became the first woman to run the historic Boston Marathon. At the time, athletics officials tried to stop her, believing women were incapable of running more than a mile and a half! (hmm, this may be true in my case). Switzer managed to cross the finishing line, but was later disqualified. It was an experience that turned her into a lifelong campaigner for women's sport.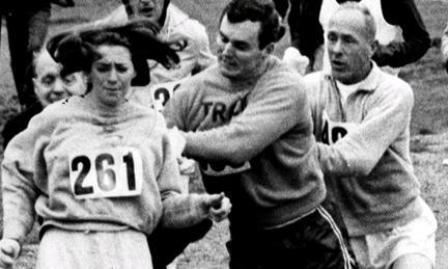 If I'm not quite ready to participate in the marathon, this programme might inspire me to get moving in time for next year. I've always enjoyed reading and learning about inspirational women and Kathrine Switzer is certainly that. Be sure to keep an eye out for another incredible, independent lady – Freya Stark – in Caroline Moorhead's biography, out in August this year!
Kathryn, Publishing Assistant