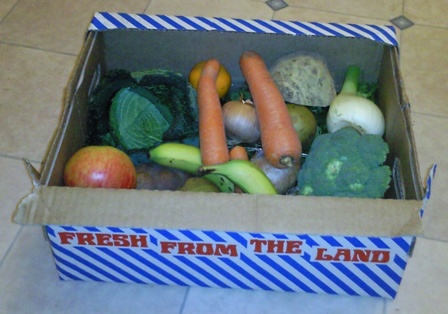 I've been wanting to do this for a while now but last week I finally ordered my first organic food and veg box. There are a few companies to pick from but I opted for Woodfield Organics and their standard Fruit & Veg Mix. I stepped out to work yesterday morning and there it was – this box on my doorstep – like a little gift left by a kind stranger. How delightful!
Now I have potatoes, broccoli, cabbage, celeriac, mandarins, pears, apples, carrots, onions and fennel to last me the week until they deliver another. The assortment of products changes every week, and with the seasons, so I know it will force me to vary my diet and eat things, like celeriac, that wouldn't normally go into my shopping basket. And each box will be a sort of semi-surprise, like a magazine subscription – you know it's coming but you're not exactly sure what'll be in it.
Most of the food is delivered (for free) within 24 hours of being picked. Not bad at all. Neither is the price, which works out cheaper than if you shopped organic in a supermarket. So anyway, if you're good about eating your five-a-day, I'd have to recommend this.
Chiara Priorelli, Publicity Manager