Getting that Christmas feeling
This weekend we took my little nephew to the Winter Wonderland fair in Hyde Park for his first experience on a merry-go-round. This was followed by an electric Reindeer ride, video footage of which will no doubt be replayed incessantly to family members over Christmas – what with me looking ecstatic on the back of Rudolph, whilst the poor child…petrified.  So, yes, whereas it's arguable as to whether the little man actually enjoyed himself, the festivities got me well into the Christmas spirit of things.
So I don't plan to stop there. There are countless number of Christmas markets and fairs around London – of all kinds and sizes.  Take a look at this list and also your local paper to see what's happening in  your area. This Wednesday for example, I'll be enjoying a local Christmas party on Stratford Road (near Earl's Court) where shops will be open till late offering free nibbles and drinks, prizes and other festivities. And I think I might pop to the German-style fair off Oxford Street at lunch and opt for a 'bratwurst' instead of the standard sarnie…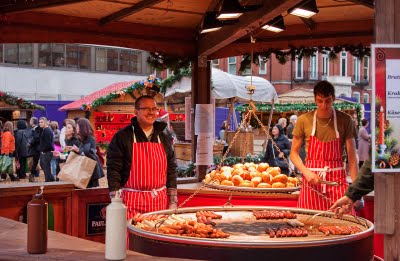 Yep, definitely, definitely in Christmas mode.
Chiara Priorelli, Publicity Manager