Shopping for the bear necessities…
We've got our fingers on the pulse, we're ahead of the curve here at A&B. I would like to draw your attention to a blog I posted this time last year in which I urged you to check out the sporadic posts over at Fiction to Fashion. Julie, the brain behind the site, works for Random House Children's Books, and put together an inspired emsemble recreating our favourite Peruvian bear's wardrobe.
Well, Baby Gap have acknowledged that Paddington Bear is a style-icon, particularly as Michael Bond's ursine hero will soon to star in the Paddington movie, and are launching a range of suitable clothes for your little one.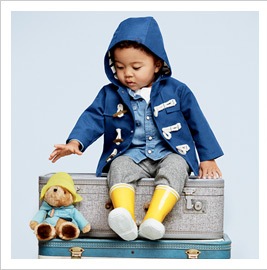 It won't be long until the duffel coat is available in a larger, ahem adult, size will it?
Lesley Crooks, Sales & Digital Manager