For the Love of Libraries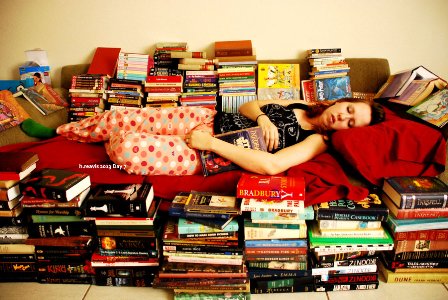 Last Friday, a giant book-shaped bed, set within a night-time dreamscape, rose up as the centrepiece of the first exhibition to take place at Peckham Platform (next door to the iconic Peckham library). Bookbed, by local artist Ruth Beale, explores learning, imagination and the book-as-symbol alongside current thinking in culture, education and public space. As the venue's opening exhibition, Bookbed highlights the importance of the book within the arts.
Beale also explained that "Bookbed will be an opportunity to use the library as a creative space, and to explore these concepts of the book and library in the collective imagination."
Libraries have come a long way from the hushed and serious institutions that our parents might have known- good news. I like the idea of the library as a place to switch off and let the imagination take over, and where better to dream than from within a giant book.
In fact, why restrict book lending to within the library? I've spotted a few book sharing spots in coffee shops and railway station waiting rooms, and recently read about Brockley's Phonebox Library, bought from BT for £1! The local book-lover spent £600 on shelving, lighting and even a carpet for the red phone box. You couldn't say it's not cosy! After some investigation I've discovered a few more of these pop up libraries in Derbyshire, Somerset and Dorset- do let us know if you spot any more! And visit Allison and Busby's Pinterest page to see some of our ideal reading spots and favourite imaginative libraries.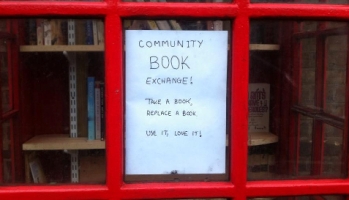 Do you still go to the library to read? Or do you have a more unusual reading spot to share with us?
By Kathryn, Publishing Assistant