So I am reading the final chapters of Colum McCann's Dancer and I am utterly awe-struck. I remember picking this book up when I was thirteen years old. I was going to dance classes three times a week and was obsessed by anything dance related. But unfortunately the setting of the Soviet Union in 1943 and the changing narrators was a bit much for my teenage mind and it was quickly returned it to my parent's bookshelves.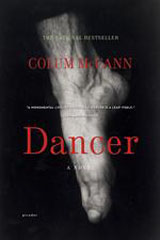 Now ten years later, I was given the book by a friend and told I 'would absolutely love it'. And I did. Not only has it rekindled an old adoration of dance but it's introduced me to one of the best literary writers of our time. Dancer is the fictional story of the life of Rudolf Nureyev, the greatest male ballet dancer of the past century, who defected from Russia and became a sensation in Europe, as much for his reputation and scandals as for his dancing talent.
Dancer stands as a reminder that some books deserve a second chance. I might go back and see what other books I've cast aside over the years. But before that, I have Colum McCann's backlist to get through.
Have you ever given a book a second chance?
Remember to watch Nureyev too!
Sophie Robinson, Publishing Assistant