Sara Magness' Top 5 Books with a Welsh Setting
Reading Teju Cole's Top 10 novels of solitude in The Guardian last week, I got to thinking that some similar book-related lists might be good for our A&B blog. As I'm enjoying a few days back home in Wales this week I thought I'd make the list a Welsh-themed one. So here are my Top 5 books with a Welsh setting, for those who enjoy mythical tales steeped in history, the romantic setting of brooding Welsh mountains, or simply a more realist look at Welsh history.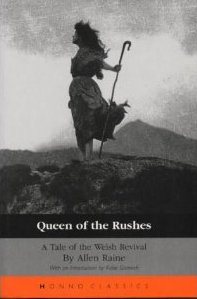 1. Queen of the Rushes by Allen Raine: Published in 1906, this book conveys a very stereotypical vision of a romantic, primitive Wales (no doubt the author knew this was the way to sell books to an English audience), but it's nevertheless enjoyable to get caught up in. The novel's dark atmosphere is a bit reminiscent of Wuthering Heights – who wouldn't love a Welsh version! This has got to be my number one.
2. The Lord of the Rings by J.R.R. Tolkien: Okay, so it's not obviously Welsh – it's set in an imagined land, after all. But Tolkien does seem to have drawn much of his inspiration from Wales. He himself admitted that his invented Elvish owes much to the sound of the Welsh language, and certain aspects of the landscape and mythology also have hints of Wales about them.
3. Shifts by Christopher Meredith: Written in the 1980s at a time when Welsh mines were being closed down, this book depicts the decline of working-class industrial life in Wales. Less Celtic romance and more realism, but this is still a good read – the characters are vivid, and it really brings home how much life changed for some people when the massive industrial side of Wales all but disappeared.
4. The Silver Locomotive Mystery by Edward Marston: This book in the Railway Detective series (published by A&B, of course!) is set in Cardiff, where I went to university. I've yet to read this, but am very intrigued to see if the setting adds anything to the mysterious plot…
5. The Owl Service by Alan Garner: This is a book for younger readers, and draws on the Mabinogion, a medieval book of Welsh fairy tales. Three teenagers reenact the story of Blodeuwedd, a mythical Welsh woman who was created from flowers, got caught up in a jealous love affair, and finally was transformed into an owl as punishment. Yes, it's as strange as it sounds, but enchanting too!
Sara Magness, Editorial Administrator