Wednesday Cover Story: More than just a pretty pattern
This month Virago has launched a collection of six Modern Classics with gorgeous pattern textile covers by various designers.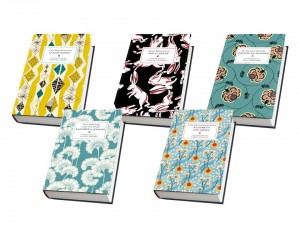 They reminded me however of something, and then it finally hit – they reminded me of a Persephone book. A Persephone book cover features that same square box including the title and author name, and whilst the cover itself is a simple grey, each book has different beautiful patterned end papers.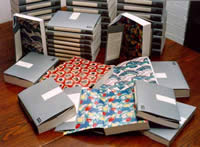 Essentially, the design concept for a Virago Modern Classic is a Persephone book turned inside out!
I have to say I love the 'hidden' uniqueness of the Persephone books – only visible when once open the book – and now (whilst comparing the two for this blog) I've discovered there is also a hidden significance to the actual patterns of the endpapers. Unlike the Virago designs which are simply the work of six contemporary designers and their own creative inspirations, Persephone Books' patterns are lifted from already existing patterns which usually are closely entwined with the theme of the respective book or author's life.
For example, the pattern for the endpaper for An Interrupted Life: The Diaries and Letters of Etty Hillesum 1941-43, is 'the fabric, by Otti Berger (d. Auschwitz 1944), a Bauhaus designer living in Holland, which could have been Etty's bedspread; the stripes running across the muted, if cheerful, pattern have the effect of barbed-wire.'

Or the pattern for the endapaper for Good Things in England, by Florence White (a collection of recipes first published in 1932) is 'a 1932 Duncan Grant fabric which Leonard and Virginia Woolf had as curtains and on a sofa, – and is called "Grapes".'

I love this insight! You can see and find the inspirations behind all these endpapers on the Persephone Books website, at the bottom of the synopsis of each book.
Chiara Priorelli, Publicity & Online Marketing Manager