Sangeeta Bhargava book signing in Harrow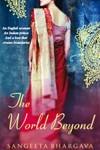 Saturday 11 February, 11.00am – 2.00pm        WATERSTONE'S, HARROW
Come and meet, Sangeeta Bhargava, author of the captivating debut The World Beyond – a love-story set in exotic India and the perfect gift this Valentine's! She will be chatting to customers and signing copies her book at her local Waterstone's 60-62 St. Ann's Road, Harrow HA1 1JX. For more information contact the bookshop on 020 8863 4578.