Publishing is a mad business
Publishers are a bit of a crazy bunch. And if proof was needed that this is indeed the case, take the following three exhibits:
If you didn't catch this the other week – shame on you for not following our Tweets! (If you wish to rectify this, follow us Twitter now). Because you really missed out on some quality entertainment and seriously sketchy dance moves by what seemed to be the entire Bloomsbury publishing house going Glee-like mad to 'Don't Stop Believin'. Roll-on-the-floor hilarious – and of course, a completely realistic portrayal of what we get up to in the office. Sadly, it has since been privatized but I'm hopeful they'll have a change of heart.
2) The publication of Aleksandr Orkov's autobiography
You know Aleksandr – the meerkat of Comparethemarket.com fame? Coming soon to a bookshop near you…
3) Richard Happer's unorthodox book signing session
A bit of genius self-promotion, Richard Happer's book is called…er… The Hills are Stuffed with Swedish Girls and the book signing took place, rather fittingly, at 1500 feet. And people actually came to have their book signed!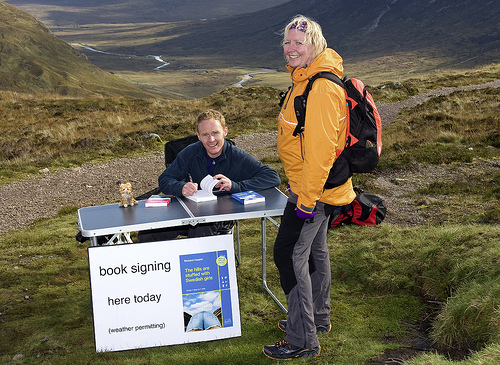 So what if the long boozy lunches are over – with gems like these, how could anyone starting out in their career decide on banking over books!
Lara Crisp, Managing Editor