Adrian Magson visits Old Hall Books, Bracknell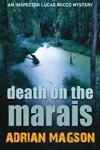 Friday 8th October, 11.00am   OLD HALL BOOKS, BRACKNELL
Adrian Magson, author of Death on the Marais – the first book in a brand new Lucas Rocco Series set in rural France in the 1960s – will visiting Old Hall Books (32 Market Place, Brackley, Northants, NN13 7DP) together with fellow local author Tom Macauley. They will be speaking to readers and books clubs and signing copies of their books as part of the bookshop's Crime Week. For more information call 01280 704146.