Is it me or has this year's Man Booker prize had more publicity than usual? With controversial topics covered in Christos Tsolkias's The Slap and Emma Donoghue's Room, not to mention the drama last week when Ladbrokes ceased betting on the prize when it looked like Tom McCarthy's C was getting all the attention, this seems to be the most talked about competition in recent years.
Last night I went to a Man Booker event at the Royal Festival Hall. It was supposed to be an opportunity to hear all the shortlisted candidates talk about their books and read the audience a short sample from them. The readin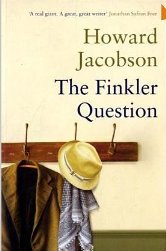 gs themselves were excellent. Three of the six extracts were read in the authors' characterized speech: Andrea Levy put on a distinct Jamaican accent for her reading, Peter Carey charmingly begged our forgiveness for his apparently flawed West Country burr, and Emma Donoghue's  rushed and high-pitched delivery was suitable for her five-year-old narrator, Jack. Damon Galgut, an author who being a fellow South African, I'm ashamed to say had not been on my must-read list before, was very impressive and I think it a shame he seems to be a very quiet contender on the shortlist. But for me, Howard Jacobson stole the show with his very amusing reading from The Finkler Question. He needed no accents, no long pauses or other techniques for his delivery. It was dry, witty and very, very funny. So much so, that I promptly bought a hardback at full price (I never do this) and queued up after the event to have it signed.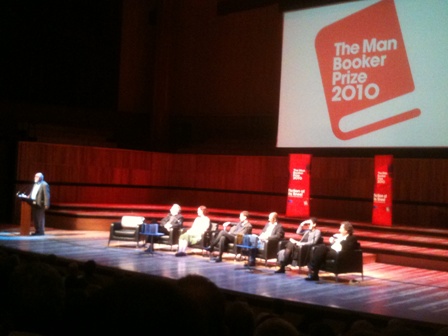 Aside from the readings though, the event itself was a little disappointing. It was held in a far bigger hall than in past years, and apparently this did not allow for question and answers which was a shame. The authors were only posed one question from the mc and on the whole they were a bit bland, i.e. 'What would winning the Booker mean to you?' I'd hoped there'd have been more discussion about the books themselves. Still, it was a good night and I'm more than a little intrigued by the outcome due to be announced tomorrow night.
My money's on Room. Yours?
Lara Crisp, Managing Editor