Following the very successful launch of D E Meredith's Devoured, our lovely author popped in last week to drop off a positively drool-worthy box of posh chocolates. It's safe to say they didn't last long.
And now, still with chocolate on the brain, and just when the days are becoming more grey and miserable, here's a little something to warm those chilled spirits. Running this week, from Monday 8th – Sunday 14th October 2012, National Chocolate Week has begun! Kicking off yesterday in spectacular style with Hotel Chocolat Choctails, the rest of the week is jam-packed with tasty offerings too, including Swiss chocolate tastings at Harrods, Chocolligraphy, chocolate and wine tastings and a pop-up truffle bar.
And just in case that's got you in the mood for some chocolatey reads, here are two of my sweet-toothed suggestions from the A&B library. Firstly, Julia's Chocolates, by Cathy Lamb, a wonderfully quirky and poignant novel featuring a protagonist who makes 'Better Than Foreplay Chocolate Cake';  secondly, Starting Over, One Cake at a Time, by Sandra Bullock's sister, Gesine Bullock-Prado,  who opened a country bakery and whose memoir will have you craving chocolate croissants, chocolate mousse, chocolate cookies and hot chocolate in no time. It also includes a recipe for a rich chocolate Devil's Cream Pie… (with a wicked whipped meringue icing pictured below!).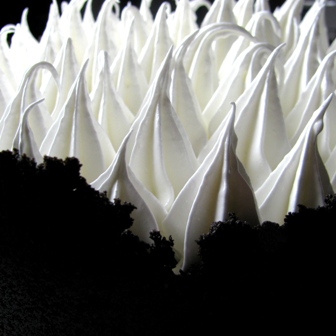 Lara Crisp, Managing Editor