Not an average day in the office
Two hours ago we got a text from A&B editor, Lara Crisp (currently on maternity leave) which read, "You all ok? Just seen the news."  Which, of course, prompted us to suddenly notice the sound of a helicopter above us, stop whatever we were doing and to check Twitter (#TCR) and the BBC News online to find out what she was talking about. And there it was. News that a man strapped with canisters had entered Shropshire House on Tottenham Court Road (which I now have learned houses the HQ of The Huffington Post as well as the targeted Advantage office) just a block away from us.  He had chucked things out of the office window, taken four hostages and was threatening to blow himself up.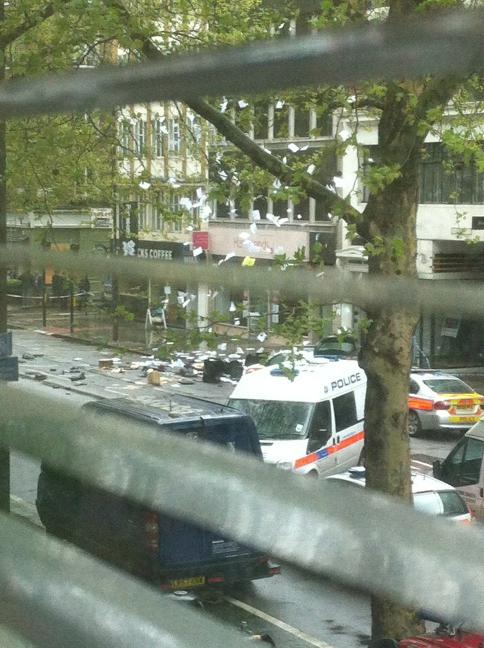 Next thing I get an email from The Fitzrovia Partnership with a message from the police asking all staff in the area to stay indoors and, if facing onto Tottenham Court Road (which we don't, we are two buildings removed) to stay away from windows. We're now watching the Sky News Live feed.
And it's really a very odd feeling. To be sitting here in a quiet office, like any other day, whilst all this is kicking off just 100m away. And the sun is streaming through the windows which adds to the slightly surreal element of the day, seeing as yesterday's continuous downpour would have been more fitting to the drama of the hour. I'm watching the footage, looking at the road and the buildings I pass every day, now at the centre of breaking news. I'm eating soup at my desk whilst four people in a nearby office are being held by a dangerous madman (apparently ranting about failing his HGV test) and are worrying about being blown up.  And that's the madness of it all – no matter how close you are to the happenings, if you are watching it on TV or online, it is really no different than watching broadcasted news from anywhere else around the world.
In that respect, perhaps I do understand now why people stand by the edge of  cordoned-off streets, anxious to watch the action with their own eyes. Perhaps it isn't just mere voyeurism or about our rather morbid desire to witness drama unfold, but perhaps it is the only way to truly experience and 'feel' the reality of the events.  Sky News tells us snipers are on the roof, a negotiatior has opened dialogue with the man (who has now been named as 50-year-old Michael Green) and the bombsquad has been brought in. It is truly an odd feeling to think this is all happening just outside. Yet if I close the Sky News Feed, then it all goes away – I would be none the wiser. And that leaves me with an even more uncomfortable feeling…
Chiara Priorelli, Publicty & Online Marketing Manager