Talk, Q&A and Book Signing: Rachel Caine in London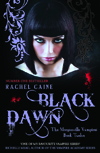 Wednesday 23 May, 6:30pm – 7:30pm    FOYLES, LONDON
Rachel Caine will be discussing her work and of course her much-awaited new book Black Dawn, the twelth novel in the Morganville Vampire series, and taking questions from the audience at Foyles, (The Gallery, third Floor), Charing Cross Road, London, 113-119 Charing Cross Road, London, WC2H 0EB. And an EXCLUSIVE TREAT – she will be reading from her next Morganville book, Bitter Blood! Tickets are FREE, but need to be reserved by emailing events@foyles.co.uk. No physical tickets will be issued but will be sent a confirmation which is your proof of reservation.