Non-Psychic Pet of the Week
Anyone following the World Cup last week will have noticed that by the time the day of the final arrived, team selections, player form, tactics and anything actually football related had been eclipsed by the acres of newsprint and cyberspace granted to Paul, the psychic octopus of Oberhausen zoo who had correctly managed to foresee the result of all group matches, pre-quarterfinal, quarterfinal, semifinal and 3rd place play-off played by Germany.
Having rooted for Holland since the beginning of the competition  I found the octopus's prediction of a Spanish victory in the final hard to accept, and developed a theory that the cephalopod could only be counted upon to correctly divine the outcome of matches involving Germany.  With this in mind and half an hour or so to spare I decided to put my own unproven pet (Sherman, a cat of American descent and therefore presumably neutral) to the test.
I cut out pictures of Dutch and Spanish star players and was planning to assign them to identical food bowls (I know, I know) when the cat, unprompted, jumped onto the top and started playing with the Dutch cutout, eventually sitting on it and refusing to budge for a good ten minutes. Heartened by such a bold and unambiguous display, I rushed to an online betting portal and confidently placed  £10 on Holland lifting the World Cup – the rest is history.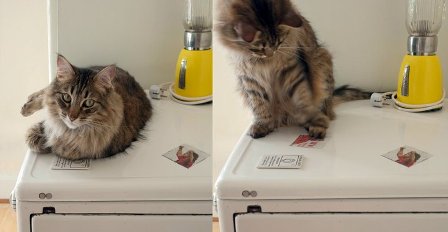 Sherman (who incidentally made himself very scarce throughout the final's broadcast) has been put on budget cat food for the rest of the week but can console himself with the thought that he has failed along more distinguished oracles such as the previously infallible Mani, a parakeet from Singapore, and a female hippopotamus who had made her prediction by devouring a cabbage marked 'Holland' but whose name escapes me.
Christina Griffiths, Art Editor