Maggie Craig speaking at the University of Dundee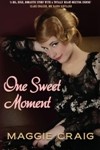 Thursday 26th November, 7pm    UNIVERSITY OF DUNDEE
Come and meet Scottish author Maggie Craig at the University of Dundee, for an event organised by Dundee Book Events. She will talking about and signing copies of her latest book One Sweet Moment, a compelling story of love amidst family pressures and the social divide, set in Edinburgh in the 1920s. Tickets are available at the venue or from Waterstone's, Commercial Street, Dundee Tel: 01382 200 322. For more information about Dundee Book Events click here.